Laguna Beach, California (March 13, 2014) — Michael Lewis's driving career has been bolstered by a scholarship he has earned from the International Motor Sports Association (IMSA) and supported by Porsche and Yokohama, which will be used toward the 2014 IMSA Porsche GT3 Cup Championship.
This season Michael will apply that scholarship to his driving duties in the No. 98 Competition Motorsports/Curb-Agajanian Porsche 911, which is owned by three-time series champion Bob Faieta.
"This was a very special opportunity to not only receive a scholarship, but to simply be invited by Porsche Motorsport North America to their Young Driver Academy," explained Michael Lewis. "There were only four spots at the test, and I was lucky enough to be one of those four drivers. As a result, actually earning a scholarship was something that I couldn't have imagined, but it happened! I would like to thank Porsche Motorsport North America, IMSA and Yokohama Tire for their very generous contribution to my driving career."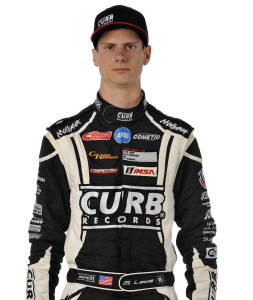 In September 2013, Michael participated in two days of training in the second Porsche Young Driver Academy, which included both on- and off-track testing at Barber Motorsports Park in Alabama. His veteran race instructors included legendary road racer Hurley Haywood, Porsche factory driver Patrick Long, and 2011 Grand-Am GT champion Andrew Lewis.
According to IMSA representatives, the scholarship is awarded to a driver without prior Porsche GT3 Cup experience and is designed to attract and recognize new talent that desires to race in the Porsche GT3 Cup Challenge USA by Yokohama. This scholarship represents an important first step in building the necessary budget required to race in this highly competitive championship, one of nearly 20 similar Porsche single-make series worldwide.
Michael's first race of the 2014 IMSA Porsche GT3 Cup Championship occurred today at Sebring International Raceway, which is part of the Mobil 1 Twelve Hours of Sebring Fueled by Fresh From Florida. He started the season with an impressive top-10 finish in 8th position after qualifying 8th of 38 drivers. His second race of the event weekend will take place on Friday, March 14.
Entering its 10th season, the IMSA Porsche GT3 Cup Challenge by Yokohoama is one of Porsche's largest single-make Cup Challenge series in the world, and runs in conjunction with the TUDOR United SportsCar Championship. Michael will compete in the series' Platinum Cup in the new 2014 Porsche 911 GT3 Cup car, which is based on the current seventh generation of the street car. The series' Gold Cup consists of the previous version of the race car.
Michael Lewis would like to thank his team of sponsors for the 2014 season, which include: Curb Records, Eibach, Cometic Gasket, ASE, C&R Racing, McKenna Porsche of Southern California, Ed Pink Racing Engines, Buwalda Construction, Laguna Classic Cars & Art, Camisasca Automotive Manufacturing, Inc., Mönik, Performance Racing Tech-Talk, Realatrends Real Estate Services, Inc., RFMS Racing, Burger King, Val Lambros, M.D. F.A.C.S., Surterre Properties, Klotz Synthetics, Coast Fabrication, Racing Electronics, GoPro, Bell Helmets, Racing Goes Safer Foundation, JDR Graphics, Hobie Surf Shop Laguna Beach, and SACdesign.