Laguna Beach, California (March 16, 2014) — Scoring two top-8 finishes in the first two races of the 2014 IMSA Porsche GT3 Cup Challenge USA by Yokohama season, Michael Lewis is adapting quickly to his new ride in the No. 98 Competition Motorsports/Curb-Agajanian Porsche 911.
Michael and the Competition Motorsports team arrived at Sebring International Raceway on Wednesday, March 12, for the first event of the season, which was held in conjunction with the TUDOR United SportsCar Championship's 12 Hours of Sebring.
After a full day of practice on Wednesday, qualifying for the races took place on Thursday morning, March 13. Qualifying can be challenging as 38 cars took to the race track at the same time with all drivers trying to lay down one good lap to earn the pole position for each of the weekend's two races. The fastest qualifying lap is used to determine the starting grid for Race 1, and the second fastest lap during qualifying sets the field for Race 2.
Michael battled traffic during the 20-minute session, but was able to put down one strong lap at 2:06.950, which allowed him to start Race 1 in 8th position. His second fastest lap during qualifying placed him in 13th to start Race 2.
After qualifying concluded, Michael and the Competition Motorsports team gathered to form their plan of attack for Thursday afternoon's race.
The 45-minute race was scheduled to begin at 3:05 p.m. The No. 98 911 GT3 Cup Platinum Cup car of Competition Motorsports/Curb-Agajanian sat on the outside of row 4 for the start. At the wave of the green flag, 38 cars fought for positions as they entered the narrow turn 1 of Sebring International Raceway. After safely making it through turn 1, Michael and the field were side by side and headed toward turn 2, but a car in front of him spun across his car's nose. To avoid making contact, Michael drove off the race course onto the grass. As he slowed down, most of the field drove past, and the track stayed under a green flag. At the conclusion of the first lap, Michael was scored in 29th position.
"My team really helped me after I slowed down on the grass to avoid hitting the other car," said Michael Lewis. "My team spoke to me very calmly on the radio and their confidence encouraged me. I was able to stay focused and I thought, 'Let's just pass as many people as we can.'"
With each lap, Michael passed some cars, and was helped by two yellow flag conditions. "After each yellow flag ended, I was able to pass cars after the green flag waved again," added Michael. "My car was really good, and that helped propel me past the other cars."
After the second yellow flag concluded, Michael was chasing for 7th position and could see the leaders ahead of him. Unfortunately, he ran out of laps, but came across the finish line in 8th place.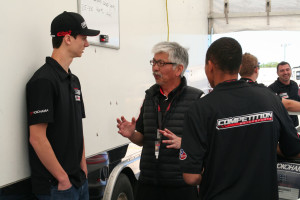 Race 2 took place early Friday morning, with a starting time at 8:55 a.m. Michael's car was placed in 13th position.
After the field took the green flag, Michael was able to pass through the turns cleanly and avoid crashes that happened among other drivers. The entire race stayed green, and Michael used his passing experience from the previous day's race to help move him forward through the field. At the end of the race, he was chasing down a top-5 finish, but as with the first race, ran out of time, but earned a respectable 6th.
"My first race was good overtaking practice for the second race," said Michael. "It definitely helped me for Race 2. My car was very good, so I didn't want to make any changes after Thursday's race. Because of the early morning start, the cooler track meant that tire degradation was low and the track was fast. On the first lap I was aggressive and held my own to avoid crashes. The race ran green to checkered, so there weren't any yellow flags to help me, and I just tried to make every lap like a qualifying lap to charge to the front."
Michael was indeed pushing his car during this second race as he set the fourth fastest lap of the race with a time of 2:06.416.
"My car was super fast," concluded Michael. "I would like to thank my team for preparing this car so well, and teaching me the aspects of driving sports cars and Porsches. I am already learning a lot by listening to my team boss Bob Faieta and the entire Competition Motorsports/Curb-Agajanian team."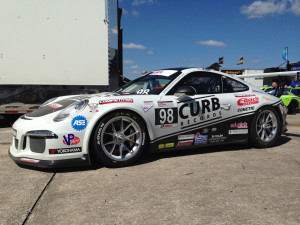 With this excellent start to the season, Michael stands in 7th place in the IMSA Porsche GT3 Cup Challenge points standings. The next event on the series' schedule is at Mazda Raceway Laguna Seca, on May 3 and 4.
Michael will have pre- and post-race videos available this season on his YouTube channel, http://www.youtube.com/user/MichaelLewisRacing
The pre-race video from Sebring International Raceway can be viewed at: http://m.youtube.com/watch?v=cAGe726nbrk
Michael's post-race Sebring video can be viewed at: https://www.youtube.com/watch?v=1s-ejksZw1E
Michael Lewis would like to thank his team of sponsors for the 2014 season, which include: Curb Records, Eibach, Cometic Gasket, ASE, C&R Racing, McKenna Porsche of Southern California, Ed Pink Racing Engines, Buwalda Construction, Laguna Classic Cars & Art, Camisasca Automotive Manufacturing, Inc., Mönik, Performance Racing Tech-Talk, Realatrends Real Estate Services, Inc., RFMS Racing, Burger King, Val Lambros, M.D. F.A.C.S., Surterre Properties, Klotz Synthetics, Coast Fabrication, Racing Electronics, GoPro, Bell Helmets, Racing Goes Safer Foundation, JDR Graphics, Hobie Surf Shop Laguna Beach, and SACdesign.