Laguna Beach, California
 — Michael Lewis finished just shy of a podium appearance by crossing the finish line at Connecticut's Lime Rock Park in fourth-place on Saturday, May 24, for Round 5 of the IMSA GT3 Cup Challenge USA by Yokohama. Round 6, the second race of the weekend, was cancelled as a result of heavy rainfall and excessive standing water on the track.
Practice and qualifying took place at the track that Michael called a "fun, intense, high-speed, short road course," on Friday, May 23. After two practice sessions, Michael joined the other 24 GT3 Cup Challenge drivers in his No. 98 Competition Motorsports/Curb-Agajanian Porsche 911 as they took to the 1.5-mile road course for the qualifying session. A slight bit of rain in only two corners of the track made qualifying challenging for the drivers, but Michael fought hard to find the optimal track position, and finished the 15-minute session with the fourth fastest lap, only 0.128 seconds behind the leader. At the end of the qualifying session, Michael earned a P4 starting position for Saturday's Race 1 (Round 5), and a P1 starting position for Race 2 (Round 6).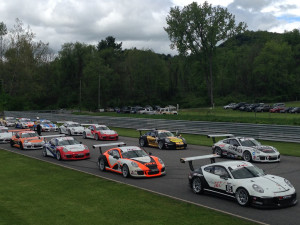 The starting grid for Race 2 is determined by the driver's second fastest qualifying lap time. However, if a driver posts a lap time during Race 1 that is faster than his or her original qualifying time, then that new lap time will supersede that driver's qualifying time, allowing the driver to start higher on the grid. In fact, at the end of Race 1, although Michael was set to start P1 for Race 2, another driver improved his lap time from qualifying and just edged Michael's time. Michael would then start P2 in Race 2.
"With a bit of water forming in only two of the eight corners, it definitely made things tricky," described Michael Lewis about qualifying. "Every time I came around those two corners where there was a bit of rain, I had to guess about the grip levels. Maybe there would be slightly more water or maybe it would be dry, in which case I could push at maximum speed. We're only talking about a slight mist on the track, but that is enough to put the car into the wall if charging into the corner at full pace. With that said, it was a risk-management game. Everyone went as hard as they could from pit lane to get in a lap time before the rain fully arrived, which it did after about 12 minutes into the session. I am happy with our effort, as we now have a good look into the first corner for both of the races. Plus in Race 2, we are set to start from Pole," he added after the qualifying session and before Saturday's rain-cancelled second race.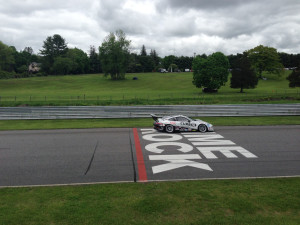 Saturday's weather forecast called for rain, but it held off for the morning's race. Starting in fourth position, Michael pressured the top three drivers throughout the first 20 minutes of Race 1. After the first 20 minutes, Michael realized that managing lapped traffic well would determine the outcome of the race. After a brief caution, 25 minutes remained in the race and Michael jumped into third place after a driver ahead of him went off the track. Michael then placed pressure on the two drivers in front of him and he was ready to make his move to go forward. With about 10 minutes remaining, the top three drivers, including Michael, encountered some lapped traffic, which gave the two drivers behind Michael an opportunity to attack. Michael battled to defend his third-place position, but he relinquished third place and settled into fourth. On the final lap, with the top five drivers running nose to tail, Michael made a last bid effort for third place and just fell short of the podium finish, wrapping up the race in position four. Michael's No. 98 Competition Motorsports/Curb-Agajanian Porsche 911 was very strong overall, and Michael described the race as "a game to see who could weave through traffic the best."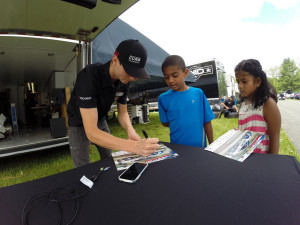 "Man, we were fast, running in third, and I was just waiting to make my move to get up even further," said Michael. "I wanted to bring home a podium trophy for my guys, but we just came up a little bit short. I battled for every inch on the race track, weaving through traffic almost every corner, and it was a solid performance by the Competition Motorsport/Curb-Agajanian team. I can't wait to get Race 2 underway and give the fans another good show!"
Michael added, "Being nose to tail for the entire 45-minute race made it a game of chess; you didn't know what move was coming next or who was going to be ahead exiting the next corner."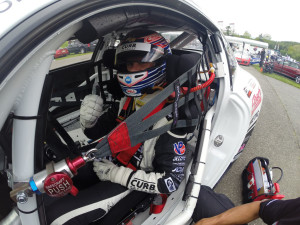 As the teams prepared for Race 2 (Round 6) on Saturday afternoon, a fair amount of rain began to cover the track just as the cars were about to commence their formation lap on dry tires. As a result, the officials declared a "wet race," which allowed all teams to fit Yokohama Rain Tires to their vehicles before the wave of the initial green flag to start the race. However, during the time when all the teams changed the Porsches from slick tires to rain tires, the rain intensity increased, which caused massive amounts of standing water throughout the circuit. As a result, the officials deemed the course "un-drivable" and for safety reasons, cancelled the second and final race of the weekend.
Michael definitely wanted to make the most of his front row starting position in Race 2, but said, "I'm happy with the result today, although I was really looking forward to improve on our results in Race 2! All I can say is that I am extremely appreciative of my guys to have hauled the No. 98 Competition Motorsports/Curb-Agajanian Porsche 911 all the way from California, and prepared it to be very strong in the one race that we completed today. We scored solid points and we brought the car home clean."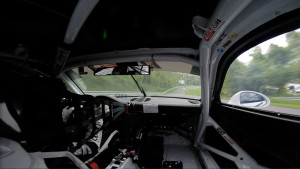 As a result of Michael's fourth-place finish this weekend, he retains second place in the IMSA GT3 Cup Challenge USA by Yokohama points' championship, as he stands only 4 points behind first place.
The next race for Michael and his crew will take place at the historic Watkins Glen International Circuit in New York, on June 26–29.
View Michael's "Post Race" Update Video from Lime Rock here: https://www.youtube.com/watch?v=-tX3ZQyuCZU
View Michael's "Pre Race" Update Video from Lime Rock here: https://www.youtube.com/watch?v=5j3aCu3v1bg
In addition, view a RACER Magazine guest column that Michael wrote for the RACER.com website here: http://www.racer.com/imsa/item/103838-michael-lewis-s-column-a-change-of-scene#!ML3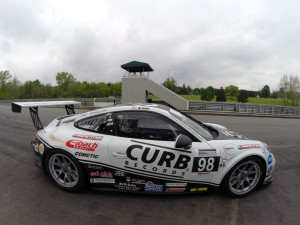 Michael Lewis would like to thank his team of sponsors for the 2014 season, which include: Curb Records, Eibach, Cometic Gasket, ASE, C&R Racing, McKenna Porsche of Southern California, Ed Pink Racing Engines, Buwalda Construction, Laguna Classic Cars & Art, Camisasca Automotive Manufacturing, Inc., Mönik, Performance Racing Tech-Talk, Realatrends Real Estate Services, Inc., Mr. Paint Incorporated, RFMS Racing, Burger King, Val Lambros, M.D. F.A.C.S., Surterre Properties, Klotz Synthetics, Coast Fabrication, Racing Electronics, GoPro, Bell Helmets, Racing Goes Safer Foundation, JDR Graphics, Hobie Surf Shop Laguna Beach, and SACdesign.