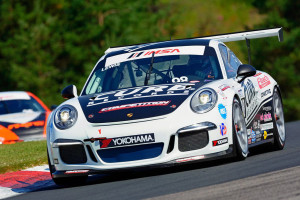 Laguna Beach, California — A fourth- and a seventh-place finish at Canadian Tire Motorsport Park have helped Michael Lewis and the No. 98 Competition Motorsports/Curb-Agajanian Porsche 911 retain third position in the points standings of the IMSA Porsche GT3 Cup Challenge USA by Yokohama.
Michael anticipated his return to the Bowmanville, Ontario, track, which is home to where he clinched the 2009 Rookie Championship in the Formula BMW series.
"Going into this race I was pretty excited to drive on the new asphalt surface that has been laid down in nearly all parts of the track," explained Michael Lewis. "The free practice sessions went really well as we set the second fastest time overall, and the No. 98 Porsche 911 gripped well with the Yokohama tires around this awesome track."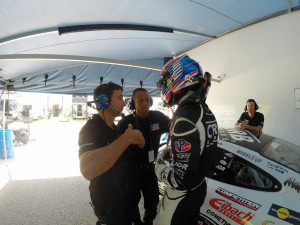 Qualifying for Rounds 9 and 10 was extremely competitive on Friday morning with Michael clinching P3 for Friday afternoon's first race of the weekend. Only a few hundredths of a second separated the top-three qualifiers, including Michael. Each driver's second fastest lap set their starting position for the second race on Saturday, which placed Michael P5.
"We hoped to be on Pole, but being only a few hundredths away in P3 really shows the competitiveness of this great IMSA series," said Michael. "The car is quick, and I will work hard to bring home a pair of trophies for my team in the two races; those guys deserve it."
Race 1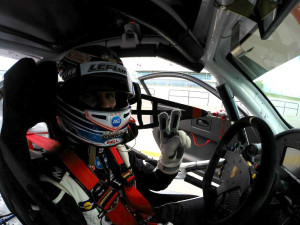 After qualifying earlier on Friday, July 11, Michael lined up his No. 98 Competition Motorsports/Curb-Agajanian Porsche 911 in third position on the starting grid. When the green flag flew, Michael attacked for second position, but had to lift entering the first corner on the first lap. As a result, Michael dropped to P4. During the first few laps the top-five drivers followed along in a train of cars, and Michael looked set to have a good result in Race 1. Unfortunately, around lap 6 of 31, Michael drove a bit deep into the braking zone of Turn 5 and obtained a massive flat spot on his right front tire. As a result, Michael immediately radioed to his team and informed them that he had to slow down his pace by a couple of seconds to maintain the tire's integrity for the remaining 25 minutes of the race. Although Michael let some competitors pass him, this proved to be the right choice as the tire began to delaminate quite heavily and became worse as the race progressed, but he was able to cross the finish line in P7, just ahead of his teammate David Calvert-Jones in P8.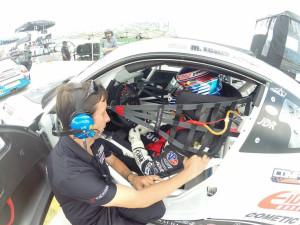 "First of all, I want to give a big 'thank you' to Yokohama Tire for building a strong product that was able to sustain such abuse from the lockup," said Michael. "Flat spotting the right front tire was totally my mistake, and from that moment on, it was a matter of survival. Every lap, the integrity of the tire diminished to the point where I was unsure if I would even finish the race. When you are trying to push hard in a 45-minute sprint race, it's never easy to lift and decrease your pace by two seconds and let everyone pass you. In the end, we somehow were able to stay within the points. And I would really like to thank my teammate David Calvert-Jones for helping me get to the end. He kept the pressure off in those final few laps, allowing me to crawl to the finish in P7."
Race 2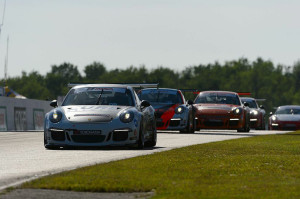 With a new day on Saturday came a new race, and Michael and the Competition Motorsports/Curb-Agajanian team were looking to be up toward the front where they have been all season long. Michael's No. 98 Porsche 911 started the race in fifth place, and over the course of the first lap, Michael slotted into sixth place. The top-six drivers were all nose-to-tail for the majority of the race, all running lap times identical to one another. Michael made a move to overtake fifth place and was successful with about 10 laps remaining. As the race was about to conclude, Michael made another excellent pass to take P4. With only two laps remaining, Michael set his sights on a podium finish. Arriving to the last couple of corners, Michael's Porsche was on the rear bumper of the third-place car, and it looked as if Michael would get another pass to move up to P3. Exiting the last corner, it was very close and the two drivers crossed the line nearly side-by-side. Michael just missed the podium by two-tenths-of-a-second margin, finishing P4 overall.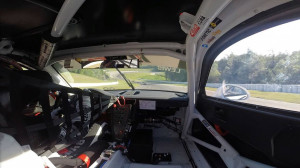 "Although we finished P4, I feel really good about that drive," exclaimed Michael. "That race was definitely a test of patience, as all of my overtakes happened within the last few laps of the race! It was a matter of setting myself up to be in the right place at the right time, and to take advantage of the opportunities to move forward when they appeared. I also feel that I am learning more and more about the Porsche 911, from the driving perspective, and growing overall as a driver. The team and I can move on to the last three rounds positively and know that we are a factor every time we show up to the race track."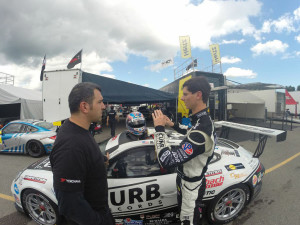 Michael's next IMSA Porsche GT3 Cup Challenge USA by Yokohama races will take place August 9–10, at Road America in Elkhart Lake, Wisconsin.
Michael's pre-race update video is available at: https://www.youtube.com/watch?v=0_fiSNYYEw0&list=UUCPrD4BxIppSaAy92-3JerA
Michael Lewis' 2014 sponsor lineup includes Curb Records, Eibach, Cometic Gasket, ASE, C&R Racing, McKenna Porsche of Southern California, Ed Pink Racing Engines, Buwalda Construction, Laguna Classic Cars & Art, Camisasca Automotive Manufacturing, Inc., Mönik, Performance Racing Tech-Talk, Realatrends Real Estate Services, Inc., RFMS Racing, Mr. Paint Incorporated, Burger King, Val Lambros, M.D. F.A.C.S., Surterre Properties, Klotz Synthetics, Coast Fabrication, Racing Electronics, GoPro, Bell Helmets, Racing Goes Safer Foundation, JDR Graphics, Hobie Surf Shop Laguna Beach, and SACdesign.