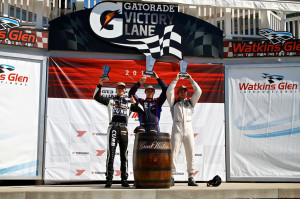 Laguna Beach, California — Third- and fourth-place finishes marked a successful race weekend for Michael Lewis in the IMSA GT3 Cup Challenge USA by Yokohama at Watkins Glen International.
The race weekend began on Thursday, June 26, with two practice sessions on the famed 3.4-mile track in the Finger Lakes Region of Upstate New York. Qualifying and the first of two weekend races occurred on Friday, June 27. During the 20-minute qualifying session, Michael set the third fastest time of 1:52.384 in his No. 98 Competition Motorsports/Curb-Agajanian Porsche 911, which placed him P3 for Friday afternoon's Race 1. However, a red flag occurred during the qualifying session, which hindered Michael's attempts to set a fast second lap. Ultimately, he would have to start P7 for Saturday evening's Race 2.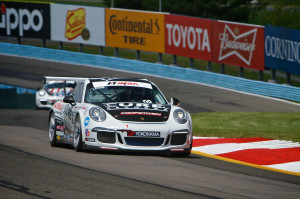 Race 1
After setting a competitive lap time during qualifying, Michael anticipated Friday afternoon's first race. He lined up the No. 98 Competition Motorsports/Curb-Agajanian Porsche 911 in third position on the starting grid. As the green flag dropped, Michael was able to overtake for second position, and chase down first position for the majority of the race. Michael and the leader continued to march forward and until they encountered lapped traffic with roughly eight laps to go. The lapped traffic prevented them from moving forward and allowed the other drivers behind them to catch up. With three laps to go, an all out brawl took place for the win as Michael's Porsche and two other cars weaved in and out of traffic as they challenged for first place. Exiting the final corner for the final time, approaching the checkered flag, the top-3 drivers, including Michael, were three wide as they crossed the line. As a result of the hard-fought battle on the final lap, Michael finished in third place, just .3 seconds behind the leader.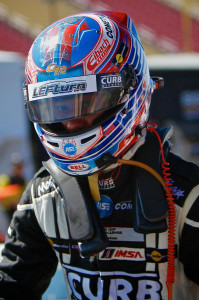 "My team owner Bob Faieta and my mechanic Dee were telling me the pace to run and how many laps were left so I could manage my equipment," described Michael Lewis about Race 1. "I am really happy for this podium result, as it has provided some good championship points. The win would have been nice, but I am really happy for my Competition Motorsports guys who put together a great Porsche 911 race car. The car lasted the whole race, was super fast, and it's amazing that the race came down to the last corner on the last lap! As it worked out, the driving strategies of the top-3 drivers all ended up being about the same because we all crossed the line 1-2-3 within a tenth or two of each other. I'm really happy to be on the podium for the team and we'll be looking to improve again tomorrow. It was a good start to the weekend."
Race 2
When Saturday evening arrived, Michael was eager to improve upon his P7 starting position for Race 2 of the IMSA GT3 Cup Challenge USA by Yokohama. And, it didn't take him long to start moving up through the field. He cleanly passed several cars to get into fourth place during the 45-minute race, which only contained about 25 minutes of actual racing time, because two very long safety car periods cut the race time down drastically. However, Michael made the most of the situation, and although he finished the race in fourth place, Michael in his No. 98 Competition Motorsports/Curb-Agajanian Porsche 911 was catching the lead group in yet another close finish.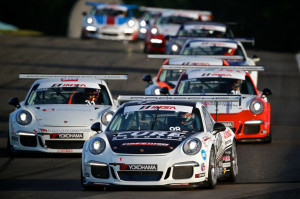 "That race was like having two mini sprint races in one race!" exclaimed Michael. "It was pretty fun because you had to make some tactical moves that normally wouldn't happen during a standard green flag race; you really had to take advantage of the restarts. At the initial race start I lost about two places, but I was just trying to keep my nose clean in case we went green the whole time like in Race 1. I was hoping it would be like that, so then I could just pick cars off one at a time. But after that first long safety car period that occurred on the first lap, I knew I had to change my game plan. Going forward into the race, I picked off my teammate—thanks to David Calvert-Jones for being a really cool teammate—and then I worked my way up through the pack. I saw that the leaders weren't really going away, so for those final few laps I put my head down to really make something happen for my Competition Motorsports/Curb-Agajanian team. I slid into fourth and basically just ran out of time to really go any further. The car was excellently prepared once again, and it was a great effort by the No. 98 crew here at Watkins Glen."
As a result of the third- and fourth-place finishes from this past weekend, Michael remains in third position in the points standings for the IMSA GT3 Cup Challenge by Yokohama.
Michael's next race event will take place when the IMSA GT3 Cup Challenge visits Canadian Tire Motorsport Park, in Bowmanville, Ontario, Canada, July 10–13.
To catch up with Michael's race videos, his Watkins Glen pre-race YouTube video is available at:
https://www.youtube.com/watch?v=NoP9aiU15VE&list=UUCPrD4BxIppSaAy92-3JerA
Michael's Watkins Glen post-race video can be viewed at:
https://www.youtube.com/watch?v=RedK6b985gc&list=UUCPrD4BxIppSaAy92-3JerA
Michael Lewis' 2014 sponsor lineup includes Curb Records, Eibach, Cometic Gasket, ASE, C&R Racing, McKenna Porsche of Southern California, Ed Pink Racing Engines, Buwalda Construction, Laguna Classic Cars & Art, Camisasca Automotive Manufacturing, Inc., Mönik, Performance Racing Tech-Talk, Realatrends Real Estate Services, Inc., RFMS Racing, Mr. Paint Incorporated, Burger King, Val Lambros, M.D. F.A.C.S., Surterre Properties, Klotz Synthetics, Coast Fabrication, Racing Electronics, GoPro, Bell Helmets, Racing Goes Safer Foundation, JDR Graphics, Hobie Surf Shop Laguna Beach, and SACdesign.