Laguna Beach, California — A premier lineup of personal endorsements has been announced for Michael Lewis and his campaign in the No. 41 EFFORT Racing/Curb-Agajanian Porsche 911 GT3 R during the 2016 Pirelli World Challenge (PWC).
Michael will take on the role of ambassador as he represents such notable organizations as The Smile Generation, Curb Records, Cometic Gasket Inc., and ASE with their logos appearing on Michael's helmet, suit, and Porsche 911 GT3 R race car.
"It will be so great to have many of my core partners return for another season with EFFORT Racing and Porsche Motorsport North America," explained Michael Lewis. "Each partner allows me to represent them in an ambassadorial role within motorsports, and it is a pleasure to be able to do so. It is so awesome to see The Smile Generation and Curb Records return as leading contributors as well. Curb Records has so much history within racing, and it's really special to represent Mr. Mike Curb and Mr. Cary Agajanian in the sports-car world. Having the 'Smile' logos from The Smile Generation on our car, my gear, and generally throughout my lifestyle will be unique for us. I mean, what's better than having the word 'Smile' on your gear? Surely that will make someone out there happy, or at least make a fan watching our races smile! Cometic Gasket Inc., ASE, and everyone onboard are successful and professional entities; each sharing the common thread of having passion and fun in what they do. It is so cool to be part of a group of people like that, and it will be an honor to represent them during the season."
As with last year, both fans and sponsors of Michael Lewis will be able to see live-streamed broadcasts of all Pirelli World Challenge races in 2016 at www.world-challengetv.com, while the races will be broadcast on television via CBS Sports Network on a tape-delayed basis. Dates and times will be announced soon.
Michael Lewis' 2016 Sponsor Partners

EFFORT Racing
EFFORT Racing was established in 2009 as a racing team with a long-term growth plan that extends beyond its initial roots. Winning While Branding, Maximizing Opportunity, Streamlining "EFFORT," Honesty and Integrity are core tenants of EFFORT Racing. EFFORT Racing is partnering with Porsche Motorsport North America (PMNA) once again to promote the PMNA Young Driver Program, which includes Michael Lewis as an official PMNA Young Driver.
www.effortracing.com

The Smile Generation
SmileGeneration®.com is your resource to find a dentist that is there for you in one of many conveniently located offices. The Smile Generation believes a better way exists for dentists to care for and communicate with their patients by connecting patients with great dentists who are dedicated to delivering on its Right Fit™ promise: providing an exceptional patient experience and advanced clinical care. The Smile Generation works only with best-in-class dentists who have a proven track record of excellent clinical work, service and a commitment to patients' health and happiness. Take advantage of their social portal, and read what prior and current patients have to say about a general dentist they sought through SmileGeneration®.com.
www.smilegeneration.com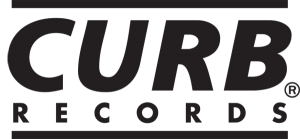 Curb Records
Celebrating its 50th anniversary, Curb Records is one of the world's leading independent music companies. Owned and operated by Mike Curb since 1962, Curb Records has achieved 433 number one records, over 1,500 hundred Top Ten records and charted over 4,500 total records. Today's roster includes some of the top names in Country, Christian and Pop/Rock music. Curb Records was honored as Billboard Magazine's 2001 Country Music Label of the Year and Radio & Records Magazine's 2005 Overall Gold Label of the Year.
www.curb.com

Cometic Gasket, Inc.
Cometic Gasket, Inc., is a leading worldwide supplier of shelf-stock, custom, and short-run gaskets for the performance aftermarket, original equipment, and motorsports industries. Based in Concord, Ohio, 30 miles east of Cleveland, Cometic produces and ships more than 5,000 types of gaskets to customers worldwide. Cometic is dedicated to customer satisfaction and provides quality products, delivered on time at a competitive price, designed for each customer's specific application. Cometic Gaskets are proudly made in the USA with materials manufactured on American soil.
www.cometic.com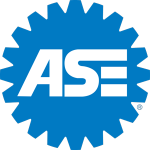 ASE
ASE stands for the National Institute for Automotive Service Excellence. Since 1972, this independent, non-profit organization has worked to improve the quality of vehicle repair and service by testing and certifying automotive professionals. ASE promotes excellence in automotive repair and service. Over 300,000 Automotive Technician and Service Professionals hold ASE Certifications. ASE Certified Technicians work in every part of the automotive service industry.
www.ase.com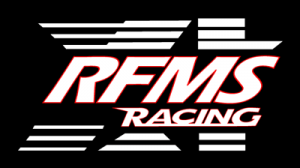 RFMS Racing
With more than 50 wins in midget racing since 1998, RFMS Racing is one of the leading race teams in motorsports. The team, owned by Don Fike, has also earned wins in USAC Silver Crown and the Infiniti Pro Series. Don Fike's own racing career included stock car racing at the Mazon Speed Bowl, and then late models. He quit racing in 1983 to dedicate his time to building an organization that provides residential care services to individuals with developmental disabilities and older adults. In 1992, Don decided to help his sons AJ and Aaron pursue their own racing dreams, and later founded RFMS Racing, which has also propelled the racing careers of many other drivers.
www.facebook.com/rfmsracing

Val Lambros M.D., F.A.C.S.
In practice in Orange County, California, since 1984, Dr. Lambros has been on the forefront of new thought and technique in plastic surgery on a national and international level. A frequent speaker at local, regional and national meetings, Dr. Lambros has challenged traditional plastic surgery assumptions about many aspects of facial aging and facial surgery. Though the face is Dr. Lambros' main research interest, he has done body contouring since its inception in the US, and has designed several widely used liposuction instruments.
www.vallambros.com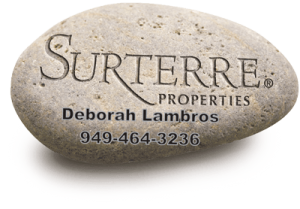 Surterre Properties, Inc.
Surterre Properties offers highly experienced, proven-successful, locally based real estate agents who are dedicated to delivering personalized client service and results. Orange County, California-based Surterre possesses the strategic vision, marketing acumen and global reach one would normally find at a much larger company—including the region's only in-house advertising agency and the industry's most aggressive Internet marketing program.
www.surterreproperties.com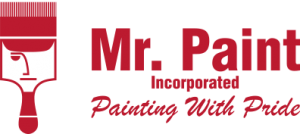 Mr. Paint Incorporated
Mr. Paint was founded in 1984, based on good, old-fashioned values: Show up on time, provide quality service, be honest, and do a good job. The company's motto is "Painting with Pride." Now more than 30 years later, the company has expanded from just painting to staining, glazing, faux finishing and Venetian plaster application.
mrpaintincorporated.com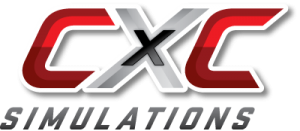 CXC Simulations
CXC Simulations was founded in early 2007 by Chris Considine, the son of noted automotive journalist Tim Considine, and a former racer himself. As a high-tech engineering firm that has revolutionized the design and manufacture of advanced personal racing simulation equipment, CXC enjoys a low profile as word of mouth and industry knowledge keep customers seeking out the Motion Pro II. Each of CXC's simulators is individually assembled, tested, installed and fully supported after the sale.
www.cxcsimulations.com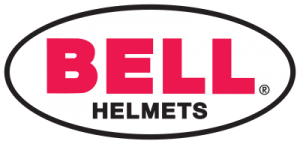 Bell Racing USA
Bell Racing USA LLC is the world's leading auto racing and karting helmet company. More champions in all forms of racing have worn Bell Helmets than any other brand. The Bell name is synonymous with innovation, technology, engineering excellence and superior helmet performance. Bell designs and develops innovative, technically superior auto racing helmets and accessories that maximize protection and enhance driver performance.
www.bellracing.com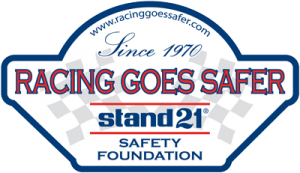 Racing Goes Safer Foundation
The Stand 21 Safety Foundation is an independent, California-based corporation, which manages an international program to promote motorsports safety worldwide, as well as seeking funding and communicating on motorsports safety enhancement programs. The Stand 21 Safety Foundation is a nonprofit (application pending) organization that is constantly involved in field research, development, and analyzes the raw feedback from racing drivers and accidents on the tracks.
www.racinggoessafer.org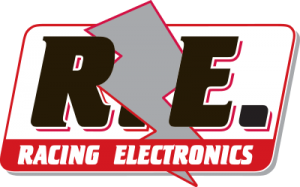 Racing Electronics
Racing Electronics has been in the racing business for more than 25 years. What began as a hobby in a condo in 1988, has grown to become the number-one company in race communications worldwide. Look around at any major racing event and one can see Racing Electronics everywhere…helping its loyal customers…professional and amateur racer, or race fan.
www.racingelectronics.com

JDR Graphics
JDR Graphics provides graphics services for motorsports. Customers can see their car's paint scheme on an all-digital 3D and/or 2D model before it is applied to the actual car. The company produces its own 3D and 2D models and does not outsource to other companies or dealers. JDR Graphics assures their designs and models are of premium quality.
www.jdrgraphics.com
Follow Michael Lewis on social media at:
Facebook: /MJLRacing
Twitter: @MJLRacing_
Instagram: @MJLRacing
Follow EFFORT Racing on social media at:
Twitter: @EffortRacing
Instagram: @EffortRacing
Facebook: /EffortRacing