Austin, Texas — Michael Lewis plans to make his mark in the record books for the inaugural season of the TCR road racing class in the Pirelli World Challenge (PWC). Driving a Hyundai i30 N TCR for Bryan Herta Autosport, the series' first race will take place this weekend at Circuit of The Americas (COTA) in Austin, Texas.
In February, it was announced that Michael signed on with the veteran motorsports team to compete in this new category in the PWC. The TCR Series, which originated in 2015, was marketed as a cost-effective spin-off of the World Touring Car Championship (WTCC). The TCR series targets C-segment hatchbacks and production-based touring cars for competition. The title TCR follows the naming convention now used by the FIA to classify the cars that compete in touring car racing.
After a successful test session in mid-March, Bryan Herta Autosport is ready to debut two cars in the TCR class of the Pirelli World Challenge. Michael Lewis will be driving in car No. 98, while teammate Mark Wilkins will be driving in car No. 99. Both drivers have extensive experience in the PWC, with Michael finishing in 5th place the last time he drove at COTA, which was last September in the SprintX Championship.
The season will consist of six double-header events, beginning with Rounds 1 and 2 on Saturday, March 24, and Sunday, March 25, respectively. Live streaming will be available at http://world-challenge.com/race/2018-03-cota/ to watch the races, and full television coverage will be available on Thursday, April 12, beginning at 8:00 p.m. EDT/5:00 p.m. PDT on CBS Sports Network.
Schedule for the Grand Prix of Texas
(all times listed as Central Daylight Time)
Friday, March 23:
11:35 a.m. – 12:05 p.m. Practice 1
5:05 p.m. – 5:45 p.m. Practice 2
Saturday, March 24:
10:55 a.m. – 11:15 a.m. Qualifying
4:55 p.m. – 5:35 p.m. Race 1
Sunday, March 25:
12:25 p.m. – 1:05 p.m. Race 2
Follow Michael Lewis here:
Website: www.mjlracing.com
Facebook: /MJLRacing
Instagram: @MJLRacing
Twitter: @MJLRacing_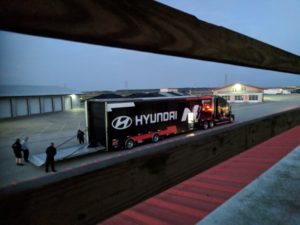 Follow Bryan Herta Autosport here:
Website: www.bryanhertaautosport.com
Twitter: @bha
Instagram: @bryanhertaautosport
Facebook: /BryanHertaAutosport