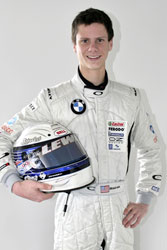 Laguna Beach, CA—Michael Lewis set the third best time during the second Formula BMW Americas collective test at Carolina Motorsports Park, in Kershaw, South Carolina. Driving for Eurointernational, Michael clocked a time of 1:30:212, just behind two of his Eurointernational teammates. That put him at position three on the lap charts during the two-day session.
"Antonio Ferrari gives all his drivers good cars and it is the responsibility of the driver to do the work on the track," said Michael. "I am pleased with the test results. I also appreciate the fact that Formula BMW allowed us to practice starts, too. We've all done a little private practice with it, doing burnouts leaving the pits or something, but it was good to do the starts with the lights and the full grid with people around you, in the environment that we will encounter on a race weekend."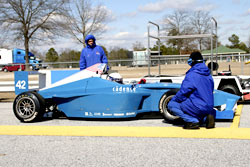 The first round of the Formula BMW Americas Championship will take place March 20–22, in Puebla, Mexico.