Laguna Beach, California (May 18, 2009)—Michael Lewis drove the #42 Formula BMW car of Antonio Ferrari's Eurointernational team to a very productive weekend at the Formula BMW Americas events at Miller Motorsports Park, in Tooele, Utah, May 15–17, 2009. On Friday, Michael qualified fifth and finished a strong fourth in the Formula BMW Round 5, where he was the highest finishing rookie.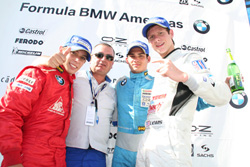 On Saturday, Michael had an outstanding qualifying effort that put him second on the starting grid, which helped him finish in second place just .520 seconds behind his teammate Giancarlo Vilarinho at the checkered flag. Michael trailed his teammate closely throughout the entire race, and was never more than one second behind Giancarlo. As a result of Michael's first Formula BMW Americas podium finish, he took over the points lead in the series' rookie championship. Eurointernational teammate Gabby Chavez placed third in Round 6, which brought the season's first 1-2-3 finish for the Eurointernational team.
"I got a good start and tried to stay right on Giancarlo's gearbox but he drove an awesome race and never gave me the opportunity I needed," said Michael. "Antonio Ferrari, Nicola Sgotto, and my mechanic John Wolters gave me a great car as well as advice about how to approach the race. I was able to race hard and earn a podium finish at the fast and challenging Miller Motorsports Park track."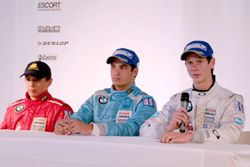 Michael then went on to run a steady race on Sunday morning for Round 7 where he started fourth and finished fourth. As a result of the two fourth-place finishes and the second-place finish, Michael vaulted to the top of the Formula BMW rookie championship standings with a five-point lead, and he is fourth in the series' overall points standings.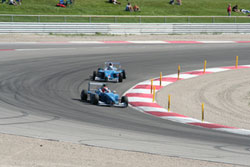 "In a perfect weekend for the entire Eurointernational Team, Michael's performances and results confirm the speed already shown at Puebla and VIR," said Eurointernational team owner Antonio Ferrari. "Michael executed in the best way possible the technical instruction from our engineer Nicola Sgotto and my advice since Monday's collective tests. The leadership in the Rookie Cup, the second place in Round 6, and the two fourth places in Rounds 5 and 7, put Michael in a strong position for the rookie championship title and the overall standing."
Michael is carrying momentum into Rounds 8 and 9 of the Formula BMW Americas Championship at Lime Rock Park in Connecticut, July 17–18, 2009.
A great sponsor team is involved with Michael's Formula BMW effort, which includes CTECH, Eibach Springs, Position One Motorsports, SSi Decals, Oakley, Team ASE, Klotz, Orange County Convention Center, Bell Racing, and Earl's Performance Plumbing.