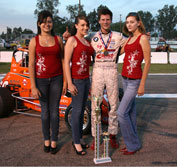 Laguna Beach, California—Michael Lewis won the USAC California Pavement Ford Focus Car Series feature on Saturday night, May 9, at Madera Speedway, while driving the No. 60 Western Speed Ford Focus car. Michael started the race on the front row and quickly took the lead after the first lap, which he never relinquished and went on to win the 25-lap feature event by a 10 car lengths and recorded his first USAC Ford Focus feature win.
"Kevin and Kent Gerhardt worked hard all night to get the car 'freed up' so I could be competitive for the feature," said Michael. "We were off somewhat with our qualifying effort so I knew I had to work hard during the race if I wanted to be ahead at the end. I was able to get a good start as well as good restarts during the feature, which helped my cause. It means a lot to me get a win for the Gerhardt family at their home track."
As a result of Michael's feature win, both of the Western Speed Ford Focus midgets are now ranked in the top 3 in owners points of the USAC California Pavement Ford Focus Car Series, with Michael in 6th position in drivers points and teammate Cody Gerhardt in 2nd.
The next Ford Focus event for Michael and Cody will be May 30th at All American Speedway in Roseville, California.
A great sponsor team is involved with Michael's USAC Focus effort, which includes CTECH, Eibach Springs, Position One Motorsports, SSi Decals, Oakley, Team ASE, Klotz, Orange County Convention Center, Bell Racing, and Earl's Performance Plumbing, along with Performance Trailer, Western Speed Racing, K&N Motorsports, Weld Racing, Aurora Bearing Company, and Mettec.