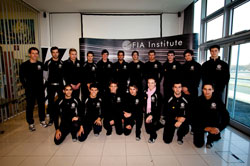 Melk, Austria (November 21, 2011) — Californian Michael Lewis has been selected as one of 18 finalists for the 2012 FIA Institute Young Driver Excellence Academy following four days of intense competition in Melk, Austria. Beginning on Tuesday, November 15, 2011, the FIA Institute brought together 36 of the world's best young drivers for the selection event. They were tested in fitness, psychology, media performance and driving skill. On the final day, 18 drivers were selected for fully funded scholarships awarded by the FIA Institute to the Academy and will be coached in a series of development workshops throughout 2012 by some of the best and brightest minds in international motorsports.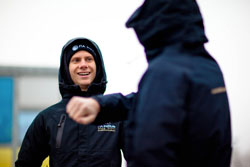 "I must thank Alex Wurz and all of the panel at the FIA Young Driver Excellence Academy for accepting me into the program," said Michael Lewis. "It has been an amazing experience participating in the selection event, and I am looking forward to the first workshop in a few weeks. Working and competing with drivers from many different categories in racing was a unique experience, as we were all collectively trying to improve ourselves during each exercise. Teamwork was a large part of all of the events and these events had always safety in mind. I was pleasantly surprised to learn about many aspects regarding safety in motorsports and in everyday driving. I thank my ASN (ACCUS) for their work in preparing my application for this event."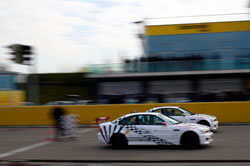 Michael's accomplishment was even more remarkable since he was unable to attend most of the first day of FIA Academy competition because he had earned the rare honor of testing a Scuderia Ferrari Formula 1 car on the same day at the Vallelunga Circuit near Rome, Italy. The test was a reward for his outstanding performance in the 2011 Italian Formula 3 Series that saw him score three victories, two pole positions and six podium finishes that placed him second overall in the series and also earned him the F3 Italia Rookie Championship. Michael's drive in the Ferrari also marked the first time in nearly 30 years that an American had driven a Scuderia Ferrari F1 car in an official outing. The last American to do so was the legendary Mario Andretti at the Caesars Palace Grand Prix in Las Vegas, Nevada, on September 25, 1982.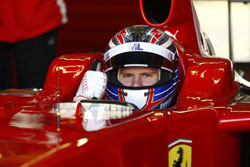 At the conclusion of the FIA Institute Young Driver Academy selection event, Michael returned to Italy to begin a winter testing program with the PREMA Powerteam in a Formula 3 Euro Series car. Michael will return home to the United States in early December to attend the annual Performance Racing Industry Trade Show in Orlando, Florida. The final details are nearly confirmed for the next step in Michael's international racing career and will be announced soon.
Michael's sponsor lineup for 2011 includes Eibach Springs, K&N Engineering, SKF, GoPro, Klotz Synthetic Lubricants, Cometic Gasket, Bell Helmets, Braille Battery, Subè Sports and Calico Coatings.
Official video of the FIA Institute Young Driver Excellence Academy Selection Event is available at
https://vimeo.com/32327507