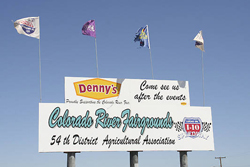 Laguna Beach, California—Driving the Western Speed Ford Focus midget, Michael Lewis set quick time on Saturday night, April 18, at Lucas Oil I-10 Speedway in Blythe, California, recording a lap of 13.853 seconds on the tricky 1/4-mile paved oval. Michael and his teammate Cody Gerhardt ran the four-lap trophy dash placing fourth and first respectively.
"Kevin Gerhardt and the Western Speed team gave me a great car to work with and we were fast as soon as we hit the track for practice," said Michael. "Kevin has been preparing top-notch cars for each race, and I was able to show how fast these cars really are."
Michael ran well in his heat race from his 7th starting position and finished 4th. He started the 30-lap main event outside the third row and for the first 15 laps ran nose to tail with the leaders. Then on lap 20, the leader of the race crashed in turn 3, which brought out the yellow flag, and simultaneously, Michael had to make a trek through the infield to avoid hitting another car that had to check up because of the crash. USAC officials then placed Michael at the rear of the field, and with 10 laps to go, Michael worked in diligent fashion back to 6th position at the checkered flag.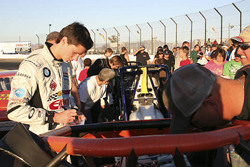 "I am very pleased with being able to work my way back up to 6th place after avoiding the race car on the race track," said Michael. "This finish keeps me in the top three in the points standings, and I look forward to our next event at Stockton 99 Speedway," which will take place on May 2, in Stockton, California.
Michael's next race, however, will be April 24–26, at Virginia International Raceway, for rounds three and four of the Formula BMW Americas Championship with the Eurointernational team.
A great sponsor team is involved with Michael's USAC Focus effort, which includes CTECH, Eibach Springs, Position One Motorsports, SSi Decals, Oakley, Team ASE, Klotz, Orange County Convention Center, Bell Racing, and Earl's Performance Plumbing, along with Performance Trailer, Western Speed Racing, K&N Motorsports, Weld Racing, Aurora Bearing Company, and Mettec.