Laguna Beach, California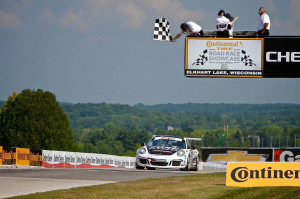 — Road America proved favorable to Michael Lewis as he scored his third win of the season and earned double pole positions for Rounds 11 and 12 at the Elkhart Lake, Wisconsin, road course this past weekend.
Not only did Michael set the pace of the field throughout the weekend and earn first-place honors in Round 12 in the No. 98 Competition Motorsports/Curb-Agajanian Porsche 911, but Michael scored two additional podiums with a second-place and a third-place finish. Michael appeared in every podium celebration this past weekend in Road America to earn valuable championship points for the IMSA Porsche GT3 Cup Challenge USA by Yokohama.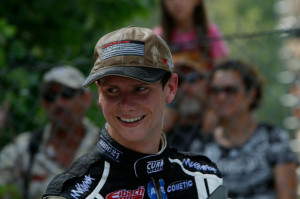 Michael's car was fast as soon as he began practice on Friday, August 8, when he set the quickest time in both practice sessions. Confident with his fast times and the well-prepared Porsche 911 by the Competition Motorsports/Curb-Agajanian team, Michael took the green flag for Saturday's qualifying session and set the pole position for both races, while achieving a new qualifying track record of 2:11.745. Michael's second fastest lap time in the qualifying session, which determines the grid for the second race of the event weekend, was 2:11.773. Michael reached a top-average lap speed of 110.614 mph, and he was .627 seconds faster than the second-place qualifier. This was an amazing feat as only the top two of the 32 drivers qualified at an average lap speed of 110 mph.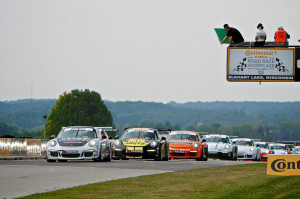 "The qualifying session went really well in terms of our plan for the No. 98 Competition Motorsports/Curb-Agajanian Porsche 911," Michael Lewis said. "There was a red flag early on, so that kind of threw a bit of a curve ball to our original plan of going out front and driving away. But we stayed calm and made the best of the situation. I'm really happy to start on the pole for both races and get clean air for this afternoon's race," he added on Saturday.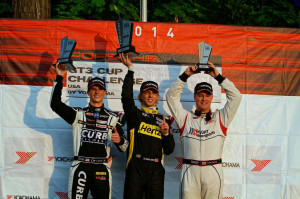 Race 1:
After waiting several hours from the morning's qualifying session, Michael took charge of the field as the green flag waved to begin the 45-minute Race 1 (Round 11). Michael was then immediately attacked for the front spot by Sloan Urry during the first few corners, and Michael had to relinquish the lead on the first lap. Michael was then in P2 and he pursued the leader for the entire race, but he was unable to overtake for the win. As a result, Michael finished in second place, only 0.293 seconds behind the leader and earned his fourth podium finish of the season.
"In the end, a second-place finish is great for our team! I definitely wanted to get the win after being so fast in qualifying, but I made a small mistake on the first lap going into Turn 5 and just ran a bit wide. But hey, that's racing," explained Michael. "We ended up scoring very solid points and we definitely managed the situation well with so many cautions and safety car periods during the event. Let's see what we can do for the second race!"
Race 2: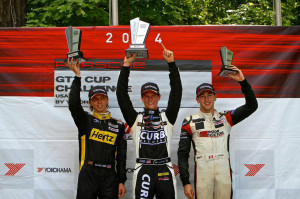 Sunday morning's Round 12 featured a starting lineup that was set by the drivers' second fastest lap times during Saturday's qualifying. Michael again set the pole position and he looked to capitalize on his first-place starting position. Idyllic weather conditions appeared for Sunday's 9:50 a.m. (CDT) start, and at the drop of the green flag, Michael immediately opened up a big lead on the field and led every single lap during the 45-minute, 21-lap race. He led by more than four seconds over the second-place driver as the checkered flag waved when he crossed the start/finish line.
Michael earned his third victory of the 2014 IMSA Porsche GT3 Cup Challenge USA by Yokohama season in the caution-free race, and also scored the fastest lap of the race.
"Starting on pole is really something special, and I looked to capitalize on this starting position once again," said Michael. "I studied what I did in Race 1, and really worked to keep the car clean and run every lap of the race like a qualifying lap. The car was absolutely incredible to drive, and a big thanks to my team for making the No.98 Porsche 911 so fast. It was on rails!"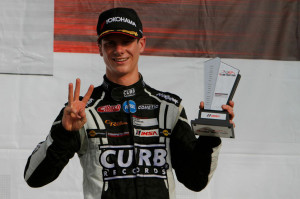 Race 3:
Sunday afternoon's schedule featured a rescheduled race from Lime Rock Park in May. Round 6 at Connecticut's Lime Rock Park was postponed due to heavy rain, but the Wisconsin 4.048-mile track was clear and dry to host this make-up event. Michael started on the front row in second place. This starting position was established by his second fastest qualifying lap at the Lime Rock event. Michael started on the front row of the grid for all three races at Road America this past weekend.
When the green flag flew, Michael dropped back to P4, as starting on the outside front row often proves to be a disadvantage. However, this played into Michael's strategy, as he would capitalize on the top-three drivers' mistakes to methodically move up in position. Michael passed for P3 early on, and soon after he passed for P2. About midway through the race, an all-out dog fight for first place took place between the leader and Michael; all the while Michael was on the rear bumper of the leader to force him into a mistake. On multiple occasions, Michael even took the lead briefly after making heroic passes on the outside of some corners, but none of the passes could stick. With around four laps remaining, the safety car appeared, which bunched up the field for a dash to the finish. On the restart, Michael made yet another attempt to pass on the outside for the win, but he ran slightly wide and fell back to P3. In the last lap, Michael looked to reclaim second place, but a safety car period would appear to end the race under the yellow flag, halting Michael's progress. Michael finished P3.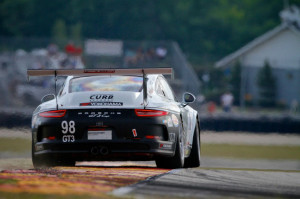 "To be honest, that was one of the most intense races all season in terms of on-track battles," described Michael. "Our car was unbelievably fast, and I was just being patient to work my way up to fight for the win. I could make some great moves and would briefly take the lead, but unfortunately, I just couldn't make any of those passes stick for the win. I definitely had fun in the intense battles, and learned quite a lot. In the end, a P3 finish is extraordinary, and I really want to give a shout out to my team for preparing such an amazing race car all weekend. Those guys deserve the results that we experienced here this weekend, and I look forward to the opportunity of bringing home some more wins for my guys in the remaining events. A weekend of setting a track record, always starting on the front row, scoring a win, and standing on the podium in all three races is definitely not too bad. On to the next race!"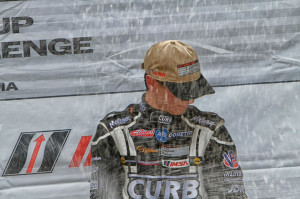 With Michael's three high-points-paying podium appearances this weekend, he remains in third place in the 2014 IMSA Porsche GT3 Cup Challenge USA by Yokohama series points standings, but he is only three points behind second position, and five points shy of first.
His next event in the IMSA Porsche GT3 Cup Challenge USA by Yokohama series will be at the Circuit of The Americas, in Austin, Texas, September 18–19.
Michael's "Pre Race" update video can be viewed at https://www.youtube.com/watch?v=dQdQR50qiPY
Michael Lewis' 2014 sponsor lineup includes Curb Records, Eibach, Cometic Gasket, ASE, C&R Racing, McKenna Porsche of Southern California, Ed Pink Racing Engines, Buwalda Construction, Laguna Classic Cars & Art, Camisasca Automotive Manufacturing, Inc., Mönik, Performance Racing Tech-Talk, Realatrends Real Estate Services, Inc., RFMS Racing, Mr. Paint Incorporated, Burger King, Val Lambros, M.D. F.A.C.S., Surterre Properties, Klotz Synthetics, Coast Fabrication, Racing Electronics, GoPro, Bell Helmets, Racing Goes Safer Foundation, JDR Graphics, Hobie Surf Shop Laguna Beach, and SACdesign.